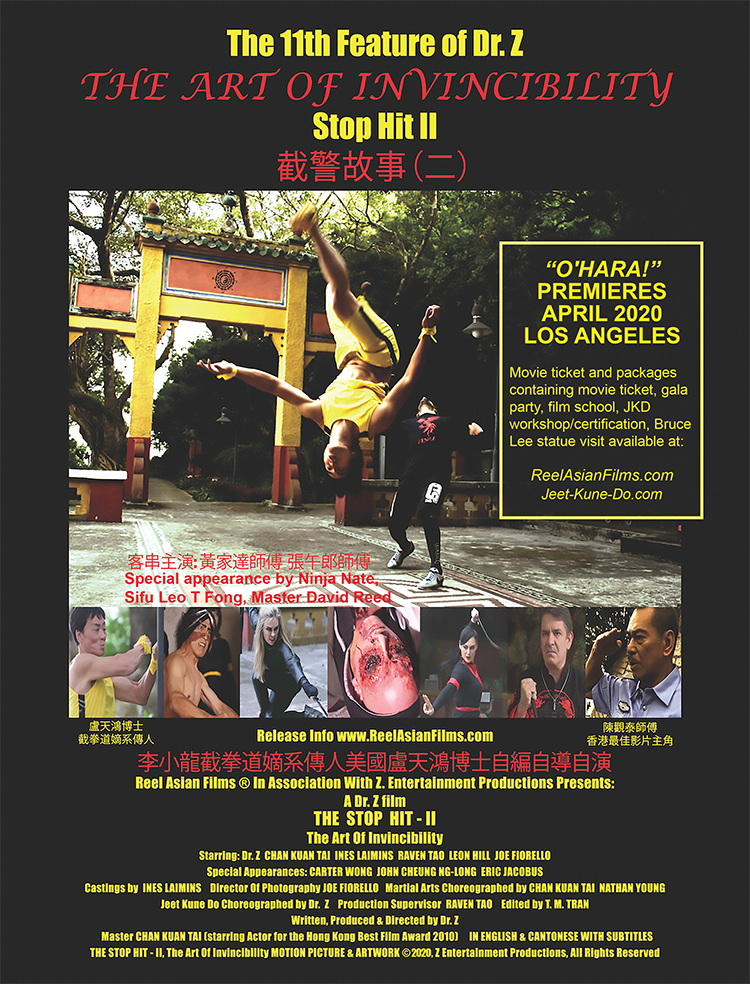 WELCOME TO OUR WORLD
DUE TO THE COVID19 OUTBREAK OUR PREMIERE IS POSTPONED. PLEASE CHECK BACK FOR UPDATES.
PREMIERE OF
"THE STOP HIT II, The Art of Invincibility"
STARTING April 24 OF 2020 IN LOS ANGELES.
THE THIRD OF OUR SEVEN NEW RELEASES.
ALSO WATCH FOR OUR SOON TO BE RELEASE "GUNG FU, JKD & MMA" ON THE INTERNET.
Our Los Angeles Premiere Packages include:
1)Single ticket to the premiere of "The Stop Hit"…..15.00    4/24 or 4/25
2)Gala dinner party with the stars and producer + Single ticket to the premiere…..35.00 4/25
3)Film school + Single ticket to the premiere…..189.00        4/24 & 4/26
This is a superb one-day intensive course with a hands-on making of a featured film as well as a practical way of breaking into Hollywood. Participants will be offering a role in our upcoming premiere
4)Jeet Kune Do workshop + Single ticket to the premiere…..189.00    4/25
This workshop includes all intercepting drills as taught in the Original Jeet Kune Do curriculum.
All tickets and packages are ready for purchase at:
https://www.eventbrite.com/e/88154746219?aff=efbneb
Please purchase early, limited seating
5)Jeet Kune Do workshop + instructor's certification + Single ticket to the premiere……1189.00   4/25 & 4/26 Plus Bruce Lee Statue Visit
This workshop includes all intercepting drills as taught in the Original Jeet Kune Do curriculum plus a full instructor's certification, valid for teaching.
In order to do the Jeet Kune Do certification, you must also do the Jeet Kune Do workshop
The applicants would also require to demonstrate their teaching abilities. The certification allows one to teach the original art of Jeet Kune Do. After one is certify, there is a yearly membership of 200.00 Before you register for the certification. In the box below, you would need to: WRITE DOWN YOUR TRAINING EXPERIENCE AND GOALS/VISIONS OF TEACHING THE ORIGINAL JEET KUNE DO. You would need to make a video/mp4 of yourself demonstrating as well as teaching the art. (approx.. 2min.) There is an application fee of 50.00 for the instructor's certification.
IF YOU ARE INTERESTED IN 5) JKD CERTIFICATION PACKAGE ABOVE, PLEASE COMPLETE THE INFORMATION BELOW AND PAY THE 50.00 APPLICATION FEE. WE WILL NOTIFY YOU ONCE YOU ARE APPROVED FOR PURCHASE.
Dr. Z FILM SCHOOL CRASH COURSE
Should you go to film school? Do you want to break into Hollywood? Do you want to be a talent? a producer? or a director? If you're going into film-making or looking for film-making courses to get yourself on the road to Hollywood, but you are not sure where to go, THIS IS A GOOD PLACE TO START!
This course will cut to the chase and teach you in only 2 days, how to produce and distribute an independent film in the mecca of film-making.
Some information about Dr. Z, co-founder of Reel Asian Films ®. Dr. Z, an award-winning filmmaker and feature film producer, hailed as the DVD's new martial hero of 2005. (Martial Medicine Man, Combat Mortal, The American Dream, Chasing the dragon…..) attended the UCLA film school in the 90's has personally starred in, written, produced & directed 13 features. The Genres range from action, martial arts, drama, foreign, comedy and thrillers.
Dr. Z has also authored the DVD series, "Dr. Z film school crash course" He has shared his experiences lecturing on campuses, martial arts conventions and film academies.
2 DAYS FILM SCHOOL, with concise information on:
INDEPENDENT FILM-MAKING: breaking into Hollywood, knowing the who's whose.
PRE-PRODUCTION: registering your idea, copyrights, pitching, packaging, budgeting.
PRODUCTION: hiring professionals, auditions, unions, star powers, assembling the team, shooting on schedule and on budget.
POST PRODUCTION: editing, ADR, music, prescreening, publicity, film rights, selling to studios, distribution deals, press kits, social media, reviews.
This 2 DAYS FILM SCHOOL crash course by Dr. Z shall take place at the Martial Arts History Museum. Featuring the concise and essential steps in independent film production. It is a must for all aspiring filmmakers.
Please Stay Tuned For Future Dates